Earl Nightingale Biography
Intro
One of the greatest modern philosophers, motivational and human-character development successors would have to be Earl Nightingale. He was an American radio personality and show host, a public speaker and author, and was considered to be the 'Dean of Personal Development,' partly because of the way he modeled a meaningful existence.
Earl's colorful radio career spanned over 40 years; and through the period of 1950-1956 he was known as the voice of the hero in a popular action-adventure series, 'Sky King,' which ran on WGN radio. And also, during that time he authored the book, 'The Strangest Secret,' which has been hailed by the likes of economist Terry Savage, and others, as 'one of the great motivational books of all time.' He then went on to narrate this book in 1956, and it has gone on to become one of the best remembered audio recordings of all time.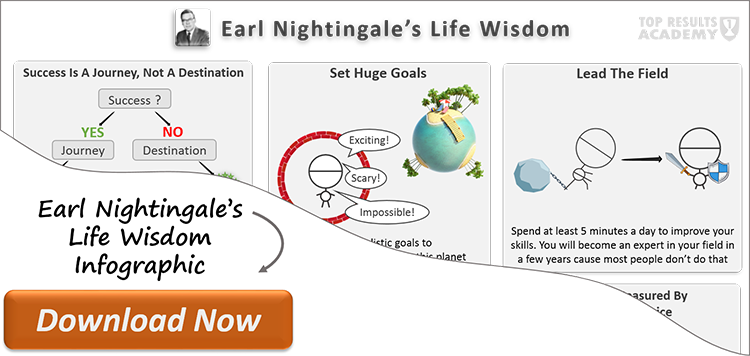 Within this profound journey of discovery, he tells of a philosophy . . . 'we become what we think about,' and this simple message has impacted many, including leaders around the globe. His personally discovered philosophy is the epitome of his life work, and he lived what he preached, leading by example. He created great success wherever he went, and teaches us how to 'go and do likewise.'
Early years
Earl was born in 1921, as a resident of the poor communities in 'Tent City,' Long Beach, California. This was behind some of the old Mariner apartments' and where his mother and father raised him and his two brothers.
By 1933 the great depression was upon the world and his father left his mother and she was forced to raise the three boys on her own. Millions were out of work, but she was fortunate enough to be working as a seamstress, at the WPA sewing factory. Many were poor and yet many still thrived, and the fact that his family was so poor and others- rich, was of real concern to Earl, even as a child.
His inquisitive mind and hunger to learn - to piece together the puzzlement of rich and poor, happy and downcast, and what made people turn out the way they did, caused him to frequent the Long Beach Public Library, California and learn. His learning became lifelong and would lead him to study the religions of the world, psychology and philosophy. He was searching how to start from scratch with no real advantages, and how to get out of a scenario of hopelessness, to become significant and a worthy contributor to society.
His discoveries caused him to become one of the world's experts on success and successfulness.
Knowledge hunger
His mother, although poor, loved to read and knew the value of knowledge and she imparted those values onto her boys. She read to them frequently and would tell them . . . 'knowledge is everything; and everything you want to know, has been written down by someone, somewhere.'
She encouraged Earl to go to the library and search, read and find the answers to success. She told him that no-one single book will have all the answers, but Earl believed that one did exist, and he was on a personal mission to find it; to find the true meaning of success.
As he read, he learned other values such as the importance of honesty and integrity; he learned that courage, and fighting for what is right is worth it, every time. Yet, throughout his searching, he still never found the answer to the one question that pestered him the most: what is the secret of success?
Early career
As a young man of 17, he was first an instructor at Camp Lejeune in North Carolina, and then decided to join the US Marines. He was stationed in 1941, during his service, to Hawaii and in fact was on board the USS Arizona when it resided at Pearl Harbor and was attacked by the Japanese. Earl was one of the only twelve survivors' of the Arizona sinking at the time. It is not known if he served elsewhere with the Marines during the war (WW2).
While in service as a member of the Marine Corps, he was given the opportunity to do some volunteer work with the local radio station as an announcer. Here, is where his desire was sparked to come back to radio again and eventually, when he left the Marines - Five years later, him and his wife moved to Phoenix, and then onto Chicago to build his newfound career. He began hosting his own daily commentary program within the WGN radio and soon arranged with the station a deal that would see him having a very fruitful career on-air. By 1957, he had become so successful that he was considering retirement at the tender age of 35.
Career highlights
Earl was enjoying the great successes that had only just begun to develop. And for the next 13 years he wore caps, from motivational speaker and author, to radio character and commissioned advertiser. During this compounding successful period, at only 29 years of age he read the book 'Think and Grow,' by Napoleon Hill and was suddenly struck by the realization that . . . 'we become what we think about.' It was such a revelation to him that all of the cogs fell into place: those simple six words he'd read, finally answered the questions he had been trying to understand since he was a child - what is the secret of success! It was like a bolt out of the blue!
So much that he had been reading on his literary journey over the years, and all of the truths he had gleaned from repeatedly. Things he'd discovered from the likes of the New Testament, to the writings of Emerson finally married up and made absolute sense. After his answers came, he began to work on his book, 'The Strangest Secret,' and by 1956 it was a successful book and he also narrated it into a 'Spoken Word Recording.' This recording sold over one million copies. It became the first ever to achieve 'Gold Record Status;' an incredible achievement.
In 1960, Earl accepted an offer from Lloyd Conant, whom had founded a small mail order company and together they formed the company Nightingale-Conant Corporation of Chicago. This set him up to fulfill the demands for his highly sought after work.
The pair then went on to pioneer the Personal Development Industry. They also developed a short - daily radio program titled, 'Changing Worlds,' which eventually aired to more than 23 different countries - from America, to South Africa and many islands in the Pacific, as well as the Armed Forces Divisions. Together they also produced another successful audio book, titled 'Lead the Field.'
Earl continued to produce further Spoken Words Records and audio book titles, including 'Think and Grow: the essence of the immortal book,' by Napoleon Hill. Finally, after he retired with his wife Diane, they formed the publishing company, 'Keys Publishing.'
Achievements
By 1976 Earl had been awarded the first ever Golden Record for his work 'The Strangest Secret.' Also he had won the Golden Gavel Award from the 'Toast Masters International;' and they then inducted him into the 'National Speakers and Associations speakers Hall of Fame.'
He then went on further, by 1985, to becoming inducted into 'The Association of National Broadcasters and National Radio's Hall of Fame.' During this same period - the mid-eighties, Earl had written another book, 'Earl Nightingale's Greatest Discoveries,' and had received the 'Napoleon Hills Gold Medal for Literacy Excellence,' for it.
Over his life time, Earl Nightingale had produced over 7 000 radio programs, 250 audio programs and also television and video programs.
Even before his death in 1989, he had created a new format for a book titled, 'The Winner's Notebook,' and included his text and his own illustrations, and he had incorporated specific space for a private journal.
Legacy
On March 28th 1989, a message went over the airways from Earls good friend Paul Harvey, he spoke of Earls death and said "The sonorous voice of the Nightingale was stilled."
Many reminisced the words of Steve King, Earls friend and commercial announcer as he reminded the world of how "Earl Nightingale never let a day go by where he didn't learn something new, and in turn, passed that learning, on to others." He also reminded the world that, "it was his all consuming passion."
So began the replays of Earls many recordings, which inspired nations, and nationalities and crossed cultural borders, and inspired people to live their lives to the fullest.
Even more than 20 years on, his best selling programs and audio books continue to sell daily; still inspiring thousands of people to continue and become successful. His recordings, and tireless work have not ceased to make huge impacts upon this world.
People like Zig Zigglar and Earls widow Diana, continued to echo the truths of Earls philosophy, reminding people that they can reach their highest potential with his simple message . . . 'you become what you think, you reap what you sow, and you must provide service to others that you meet.' And he is remembered as one of the greatest philosophers of his time.
Summary
What a legacy, what a classic story of 'Rag's to Riches.' Here was a boy from the wrong side of town, that had an all consuming passion to discover the meaning of life. Here is a boy that tirelessly learned and asked questions, and stretched out, grasping uncharted borders to seize the day. He reached for a day that those who knew the boy at a young age, may never have believed he could grasp.
From a young man with no father to be his mentor, no person to answer is inquisitive questions of 'what the meaning of life is.' To a man who became a lifelong learner, and eventual legend with huge caliber - on international radio's, and in global phenomenal literature. Even today he continues to influence so many, with a simple philosophy . . . 'you become what you think about.'
He never quit and therefore he prospered and became the legend with many titles . . . he was a survivor of a wicked attach upon Pearl Harbor, he was the radio character 'Sky King,' and also 'The Dean of Personal Development.'
Not only that, but he won many coveted titles with his book and audio book, 'The Strangest Secret,' receiving the first ever Golden Records Award. He influenced many with a simple 5 minute-radio tidbit program called 'Our Changing Worlds.'
He reaped what he sowed, he helped where he could and he prospered with whatever he put his hands to.